(Clearwisdom.net) On April 14, local Falun Gong practitioners from Boston held a photo exhibition on the campus of Boston University (BU), exposing the brutal persecution of Falun Gong in China. Students from the Amnesty International BU chapter came to the exhibition, sitting with practitioners and expressing their support.
Ariana Katz, a sociology and Hebrew student, is a member of Amnesty International at BU. She helped practitioners pass out flyers and talk to people. She told people how her roommate, Shirley, had changed for the better from practicing Falun Gong. She also told people that since studying the facts of Falun Gong and talking to practitioners, she has gained a more positive understanding of Falun Gong, and consequently, she supports Falun Gong more.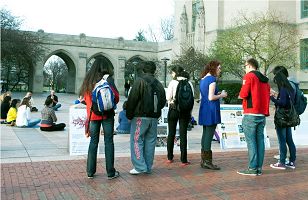 Ariana (in blue) talks to students about Falun Gong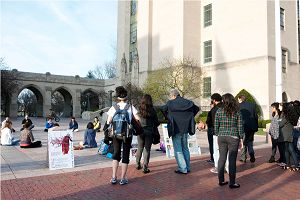 Students view the display boards
Two days before the event, the organizer announced it on her facebook account. One Chinese student left very negative comments. Ariana replied to this student. She said that Falun Gong has spread quickly in the world; some people who follow the Communist party may misunderstand due to the negative propaganda, but what she sees, through her roommate and other Falun Gong practitioners, is compassion and benevolence.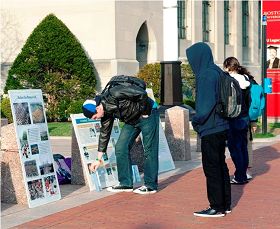 A student takes a flyer after talking to a practitioner
Ariana said to the Chinese student that the Chinese Communist Party (CCP) has tried all means to slander Falun Gong with all kinds of propaganda. She said whether one practices Falun Gong or not, he or she should stand up against the genocide and persecution, because that is basic humanity.
She also told the Chinese student that the CCP not only kills Falun Gong practitioners in a systematic way, but also persecutes other human rights or religious groups in China. She asked the Chinese student not to be polluted by the CCP's lies. She said that she should open her heart and come to the Falun Gong activity, and learn about the truth of Falun Gong objectively.
Encouraged by Ariana, that Chinese student came to the event and talked to Shirley for three hours about Falun Gong. She learned the truth and changed her opinion. She told Shirley that she was happy to talk to her; she didn't mean to offend Shirley a few days before; and she appreciated that Shirley shared her thoughts so that she had a chance to see Falun Gong from a different angle.
Posting date: 4/19/2011
Category: Community Events
Chinese version available at

http://minghui.ca/mh/articles/2011/4/18/波士顿大学生伸张正义(图)-239203.html